Product Videos: Hide/Show >>
Profile: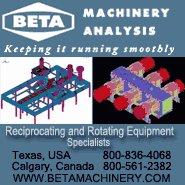 Beta Machinery Analysis is a global leader for design services and one of North America's premier machinery consulting firms. Established in 1967, we specialize in pumps and compressor systems and rotating equipment. Our customers include oil and gas facilities, offshore platforms and FPSOs, pipeline compression stations, refineries, LNG and oil sands plants, fertilizer production plants, pulp & paper plants, power-generation plants and water treatment facilities.
Our offices in Houston, Texas (USA), Calgary, Alberta (Canada), and Kuala Lumpur (Malaysia) and sales support in China and Europe serve customers around the world. We provide full life-cycle support through design, field troubleshooting, and condition monitoring for critical machinery systems.
We are the market leader in Engineering & Design Services including API 618 studies, pulsation analysis (accoustical studies), vibration analysis,torsional analysis, thermal analysis, foundation analysis, structural analysis, and piping and skid analysis for new compressor and pump packages and equipment revamps and upgrades.
Our Field experts respond quickly to troubleshoot & solve rotating equipment challenges such as vibrating compressors, machinery problems and facilities integrity; and perform commissioning, assessments, balancing, alignment and remote analysis.
BETA's Optimization Services address monitoring, reliability and training needs for maximum reliability, performance and cash flow. Contact us and see what we can do for you.
Edit or Enhance
this Company (
3949
potential buyers viewed listing,
1246
forwarded to manufacturer's website)