Profile: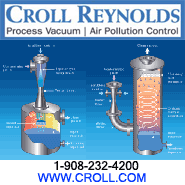 Croll Reynolds Company, Inc. is an engineering firm specializing in the research, design, and manufacture of process vacuum systems and air pollution control equipment. Specifically, we design vacuum systems, combination liquid ring/ejector systems, thermocompressors, and vacuum chillers. We also design jet venturi scrubbers, high energy venturi scrubbers, nox scrubbers and packed towers. Our process vacuum equipment is utilized in such diverse applications as evaporation, cooling, desalinization, atmosphere simulation and degassing.
Steam ejectors are designed to convert the pressure energy of a motivating fluid to velocity energy to entrain suction fluid and then to recompress the mixed fluids by converting velocity energy back into pressure energy. This is based on the theory that a properly designed nozzle followed by a properly designed throat or venturi will economically make use of high pressure fluid to compress from a low pressure region to a higher pressure. This change from pressure head to velocity head is the basis of the jet vacuum principle. Ejectors are generally categorized into one of four basic types: single-stage, multi-stage non-condensing, multi-stage condensing and multi-stage with both condensing and non-condensing stages. Single-stage ejectors are the simplest and most commonly used design. They are generally recommended for pressure from atmospheric to 3″ Hg. Abs. Single-stage units typically discharge at or near atmospheric pressure.
Jet venturi scrubber utilizes a liquid motivated ejector design to entrain contaminated gases, generally without the need for a blower. The relatively high liquid-to-gas ratio, liquid atomization, and open internal design provide effective scrubbing of heavily contaminated gases with minimal maintenance and virtually unlimited turndown capabilities.
Edit or Enhance
this Company (
5533
potential buyers viewed listing,
1884
forwarded to manufacturer's website)