Profile: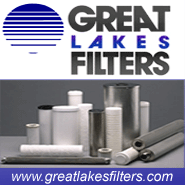 Great Lakes Filters is a manufacturer and distributor of Industrial Filtration Products. We specialize in providing Filters, Filter Fabrics and Filtration solutions for a wide variety of industrial applications. Our products are manufactured or assembled at our ISO 9000:2000 certified plants in Hillsdale and Michigan. Our capabilities include programmable CAD driven die cutting, fabric slitting and high-speed programmable sewing. We also have custom-designed machines that perform a variety of production tasks. Our products include:
Coolant Media
Dust Collector Bags
Cartridges, Elements & Vessels
Liquid Bags & Vessels
Custom Bags and Fabrication
Air Filters / HVAC
Air Intake & Compressed Air Filters
Filter Paper
Flex Socks
Non Woven Media
Oil Filtration and Reclamation
We offer a complete line of replacement dust bags and cartridges for every industry. Products are available in cotton, wool and synthetics like Orlon, Dacron, Polypropylene and Teflon felts. We also offer
Flex-Kleen, Pinnacle Air Pollution Control and AGET along with peripheral equipment
. We make replacement filter bags for all pressure and vacuum leaf filters, covers for rotary drums, and press cloths for plate and frame filters.
We specialize in non-wovens for coolant filtration and offer a complete range of densities in cotton, rayon, and synthetic fibers in an assortment of roll widths and lengths. Our offering includes all types in standard put-ups, special widths, and roll lengths, as well as Oberlin pressure filters, Ace / DelPark gravity bed filters, and turn-key systems from Serfilco. We serve Chemical, Automotive, Pharmaceutical, Environmental, Food & Beverage and Metal Working Industries.
Edit or Enhance
this Company (
1317
potential buyers viewed listing,
537
forwarded to manufacturer's website)