Profile: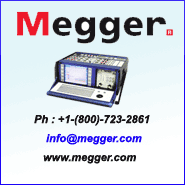 Megger Ltd. is a manufacturer of Electric Test Equipments and Measuring Instruments for electrical power applications. Our products provide testing solutions in the most critical maintenance areas including Cable Fault Locating, Protective Relay Testing, and Power Quality Testing. We provide a full service solution to meet the electrical test and measurement needs. Our equipment is employed by electric utilities, industrial operations that use electric power in their manufacturing process, testing service companies who provide testing services for manufacturers & electric utilities of all sizes & types.
Clamp-on Ground Resistance Testers
DET14C and DET24C are advanced clamp-on ground resistance testers that set new standards in terms of access, performance, features, simplicity of operation and safety. These units are designed with flat core ends to prevent dirt build-up, ensuring measurement integrity and improved reliability over products with interlocking teeth. These testers include a built-in filter function for electrically noisy environments, time and date stamped stored test results & ultra long battery life.
CFL510G Time Domain Reflectometer is designed to work on twisted pair of copper and coax cables. The 2 ns pulse width virtually eliminates dead zones. These reflectometer ranges are in six steps from 30 to 15,000 feet. Reflectometer features hand held TDR, and dual cursors.
Time Domain Reflectometer | Ground Resistance Test Equipment | Watthour Meter Test Equipments | Low Resistance Ohmmeter Test Equipments | Transformer Testers | Power Quality Equipments
Edit or Enhance
this Company (
292
potential buyers viewed listing,
53
forwarded to manufacturer's website)