Product Videos: Hide/Show >>
Profile: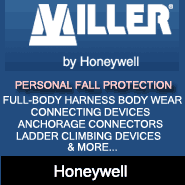 Miller Fall Protection has been synonymous with Personal Fall Protection Products and services for over 65 years. The Miller brand is manufactured by Honeywell Safety Products an ISO 9001:2000 certified company. A new addition was recently added to our business portfolio — Collective Safety at Height Solutions — systems designed to protect multiple workers at the same time. Our offerings include:
Full-body harness body wear
Ladder climbing systems
Confined space & rescue devices
Professional fall prevention & protection training
Engineered solutions
Collective Safety at Height Solutions
The Miller collective systems concept incorporates a wide range of product solutions, technical support, research & development projects, component testing, training, installation and consultancy services. Through Miller Collective Systems, Honeywell can support the needs of a project at any stage; however, early involvement will permit the greatest solution flexibility, and will always produce improved results practically, commercially & safely.
Miller Revolution full-body Harness A totally new concept in full-body harness design, the Miller Revolution Harness exceeds worker expectations in comfort, fit, ease-of use, flexibility and more.
Miller TurboLite PFL self-retracting lifeline A cost-effective alternative to Shock-Absorbing Lanyards, the Miller TurboLite personal fall limiter (PFL) eliminates the need for different fall protection equipment to address fall clearance issues. Extremely compact and lightweight, this self-retracting lifeline attaches directly to the harness back D-ring for greater mobility and versatility.
Manyard II Stretchable Shock-Absorbing Lanyards Manyard II Stretchable Shock-Absorbing Lanyards feature a specially-woven shock-absorbing inner core that smoothly expands to reduce fall arrest forces. A heavy-duty tubular outer jacket serves as a wear indicator and back-up strap to the red inner core for added safety. Our lanyards reduce the chances of tripping, snagging or dragging.
Anchorage Connectors The anchorage connector is the third component of a personal fall arrest system. Miller offers a variety of convenient 5,000 lb. rated anchorage connectors for every application.
Ladder Climbing System GlideLoc Ladder Climbing System is designed for ladder applications in telecommunications, utilities, wind turbines, industrial facilities, drilling rigs/platforms, shipbuilding, confined space, etc. It is the only ladder system offering ergonomic support since the user can lean forward or back while ascending/descending, reducing fatigue.
Confined Space Systems Miller DuraHoist™ Safety Systems, offer a complete line of components for confined space entry/retrieval, rescue, positioning and personnel/material handling, as well as fall arrest. Constructed of high-strength aluminum, Miller DuraHoist Systems are modular in design and feature lightweight aluminum construction, a variety of portable and fixed bases, and storage bags for easy transport.
Fall Protection Training Miller Fall Prevention and Protection Training offers a complete line of custom and prescheduled open enrollment training courses including Fall Protection Equipment Inspection, Fall Protection Train the Trainer, OSHA Construction and General Industry Training courses, Ladder Safety, Confined Space Rescue, and more.
Collective Safety for Multiple Workers Miller Epic Barrier Systems provide durable, reusable safety solutions for multiple workers and are commonly used in building construction and other elevated areas where workers are exposed to leading edges. They are available in four cost-effective safety systems.
Ladder Climbing System | Full-Body Harnesses | Connecting Devices | Shock-Absorbing Lanyards | Anchorage Connectors | Roofing Products | Temporary Roof Anchors | Fusion Roof Anchor Post | Roofing Kits | Fall Protection System | Foldable Ladder System | Confined Space Products & Systems | Tripods | Portable Confined Space Systems | Barrier Systems | Fall Protection Kits | Relief Step Safety Device | Engineered Fall Arrest Solutions | Welding Products | Personal Fall Protection Products