Profile: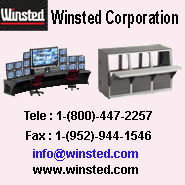 Winsted Corporation offers Technical Furniture Systems. We create, develop, and market Technical Furniture Products for application in video, production, broadcast, security, power utilities, process control, transportation, and additional industries. We offer products, such as command consoles, equipment racks, media workstations, rack mount console, mobile audio/video carts and high capacity movable systems.
Prestige Sight Line
Our Sight Line Consoles are ergonomic, modular, and adaptable, giving users flexibility in control room environment. It consoles feature the Versa-Trak monitor support system which offers the ultimate in adjustability. Monitor viewing angles and sight lines are easily optimized based on personal needs. Integrated Horizontal Aluminum Track System supports a wide variety of monitor arrays. Corner Fillers help fit consoles into rooms, and deliver a convenient, ergonomic wrap-around operator console. Double Panel Doors are extra-sturdy to support a CPU shelf or file/storage bin for convenient swing-out access.
Rack Mount Consoles
Our System/85 Consoles deliver flexible design solutions on single bay consoles to sophisticated multi bay installations. It designed to handle a wide range of technical furniture needs, System/85 Consoles create an infrastructure that expands with the changing nature of your business and the latest electronic equipment. Our Multifunction Rack Mount Desks integrate seamlessly into production environment. Stylish, ergonomic wrap-around desktop design with adjustable riser makes Rack Mount Desks a perfect solution for demanding editing, production, and security operations.
Media Storage
Our Stationary Media Storage Systems deliver a flexible, efficient, modular system for the storage and retrieval of audio, video, and other media content. System maximizes media storage capacity and efficiency while minimizing floor space usage.
Edit or Enhance
this Company (
665
potential buyers viewed listing,
157
forwarded to manufacturer's website)