Profile: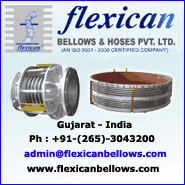 Flexican Bellows & Hoses Pvt. Ltd.specializes in the manufacturing of Metal Bellows Expansion Joints as well as non-metallic expansion joints & compensators. We are accredited with ISO 9001:2008 from TUV NORD (Germany), and authorized & certified for CE marking on our products, and have been actively involved in the export of our equipment overseas. We are the pioneers and leaders in expansion joint manufacturing in India.
Expansion joints manufactured by us are used in diverse industries such as steel plants, refineries, petrochemicals, cement, fertilizers and power plants, to name a few. Our products range of metal bellows expansion joints comprise of the following:
Axial bellows, Universal Bellows, Hinged Bellows, Double Bellows, single and double miter rectangular expansion joints, Round Corner Rectangular Expansion Joints, Oval Bellows Expansion Joints, Jacketed Bellows, and Testable Ply Bellows.
Axial & Universal Bellows Expansion Joints: Axial Bellows is the simplest form of expansion joint. A flexible element either with flange or butt weld end is used to absorb any combination of the three basic movements, arising due to temperature / pressure in the piping systems, such as axial movement, lateral deflection and angular rotation along the axis of the pipe line. Axial bellows control only the axial expansion of the pipeline due to thermal elongation. Universal or Double bellows are the type of expansion joints where two bellow elements are provided. The use of these expansion joints are for applications where absorption of higher thermal expansion / contraction needs to be compensated. This can be located near the center of the piping system, and proper anchors and guides have to be provided. Each bellow element of the expansion joint acts like a single expansion joint and the compensation of all the three movements occur effectively.
We have the capabilities of manufacturing circular expansion joints up to a diameter of 8000mm.
Pressure Balance Bellows: These forms of expansion joints are normally used where a change in the direction of the piping system occurs, and the pressure thrust needs to be compensated along the direction of the piping. The deflections are controlled by the tied universal type of expansion joints so as to compensate the lateral movements and the pressure elbow is usually required to compensate the axial deflections also present. Moreover, a bellow element is also incorporated below the elbow, to compensate the localized movements present at the extremities.
The pressure balancing bellow is connected by tie-rods to the pipe extremity. The main feature of these bellows is that apart from absorbing axial and lateral movements, the pressure force remains in balance, and the pressure thrust remains constant also, and at the same time there is no change in volume. This is often used in the connection of the piping system to equipment such as columns, reactors, and pressure vessels and etc, or when there is a change in direction of a pressurized pipeline.
Rectangular Bellows Expansion Joints (single & double miter): These rectangular joints are most commonly used in low pressure ducting having a large cross-section area, to absorb thermal growth, as well as for vibration absorption adjacent to fans, blowers and other rotary mechanical equipment. In general, they are used in the same manner as the corresponding circular expansion joints. Rectangular Expansion joints have applications in cement, power, petrochemical, refinery, chemical, fertilizer, steel as well as various industries.
The prime objective for the use of these expansion joints are to compensate axial and lateral movements, and displacements due to thermal expansion, and movements arising due to vibration of adjacent equipment.
Oval Bellows Expansion Joints: Oval Expansion Joints are most commonly used in low pressure ducting to compensate thermal growth, with addition to provide flexibility in short runs of the piping system, and also for vibration compensation adjacent to fans, blowers, and other rotary mechanical equipment.
We have manufactured similar expansion joints for turbine exhausts of large sizes up to 1160mm x 800mm x 1000mm long under Third Party Inspection.
Hinged Bellows Expansion Joints: Hinged Bellows Expansion joints, either Axial or Universal type, are designed to absorb angular rotation in one plane, by the use of a pair of pins through hinged plates attached to the expansion joints.
These need to be used in sets of 2 or 3 in order to function properly. The inherent design prevents these joints from deflecting axially, either in extension or compression. The hinged mechanism is usually designed to accept full pressure thrust and also shear loads, such as the weight of the adjacent piping, which could be compensated by the provision of additional supports and anchors.
Hinged Bellows also have the added benefits of positive control over the movements, which eliminates thrust forces, transmits external loads, prevents torsion of bellow elements, and are most efficient in the absorption of thermal deflections.
Tuyere Stock Compensators & Hot Blast Main Expansion Joints: Flexican Bellows specializes in the manufacturing of critical expansion joints for high pressure and high temperature applications. These are mainly for steel plant blast furnaces with or without refractory. We have also manufactured expansion joints from various grades of Inconel & Incoloy.
Non-Metallic Expansion Joints NMEJs: This is a widely used product that has been included in our line of manufacturing. Non-metallic fabric expansion joints are widely used in various sectors of industries for vibration compensation, connection for duct misalignment as well as movement compensation due to pressure and temperature up to a certain extent. These are used in diverse industries such as steel plants, cement plants, fertilizer and chemical plants where hot air / gas ducting is involved.
Consultants & Third Party Agencies: Flexican's manufacturing facilities have been approved by some of the leading project consultants such as, LRIS, NPCIL, MECOM, CEIL, Bureau Veritas, TOYO, BHEL, KPG, UDHE, Avant Garde, JH&G, PDIL, DNV, Bax Council and etc. We have also qualified for PED Cat.3 Module H and Shop Approval from IBR (Indian Boiler Regulations – 1950, from Director of Boiler, Ahmadabad Office.)
Expansion Joint Designing and Testing: Flexican has one of the best expansion joint designing facilities. Some of the latest specialized designing packages are used for the purpose. We employ computer generated models (upto 10000 models) before the best model for a specific application is optimized. Our designing process ensures zero percent failure in active service conditions.
Flexican has its own testing facility for the testing of metal bellows expansion joints. We have developed state-of-the-art apparatus for the destructive testing of expansion joints such as cycle life tests, squirm / yield and rupture testing. Due to which it is possible for us to offer specific custom built designs with various types of individual tests.
Axial Expansion Joint | Pressure Balanced Bellows | Single Miter Rectangular Expansion Joints | Tied Lateral Bellows | Gimbal Bellows | Hot Blast Main Bellows | Tuyere Stock Compensator | Universal Gimbal Bellows | Inline Pressure Balanced Bellows | Vertical Fixing Design | Direct Mounting Design | Angle Flange Design | High Neck Design
Product Catalogs: