Shaanxi Allstate Technology & Manufacture Co., Ltd. is a manufacturer of machinery components. We are accredited with
ISO 9001:2000
certification. Additional machining operation and surface treatment will be made if needed. Our products are widely used in agriculture, automobile, and chemical industry.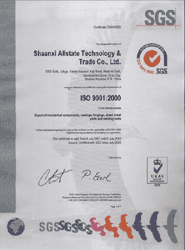 Casting
We manufacture and export various castings including investment castings, sand castings, die-castings and centrifugal castings. The yearly output of various castings is above 12000tons, which are widely used in metallurgy, automobile, chemical, ship and hardware engineering industry. The materials used for castings include ferrous metal such as stainless steel, alloy steel, ductile iron and non-ferrous metal such as brass, aluminium, aluminum alloy, & zinc alloy.
Sand Casting
Sand casting is the simplest and most versatile of all casting processes used to produce castings. This process uses wooden or metal patterns that are then placed in the split molding frame. The frame is then filled with sand and packed around the pattern. The mold is then separated and the pattern removed. Once the mold halves are reassembled, the resulting cavity is filled with the selected molten alloy. There are a variety of types of sand casting, including chemically bonded, clay bonded and oil bonded. The type of sand casting process used is dependent upon production speed requirements, the size of the casting, environmental concerns and cost considerations.
Investment Casting
Our Investment casting is also known as the "lost wax" process. This process uses wax patterns assembled in tree forms on a runner. The completed assembly is coated with ceramic slurry, allowed to dry and then heated to melt out the wax leaving a ceramic mold into which the molten alloy is poured. Tolerances of 0.5 % of length are routinely possible, and as low as 0.15 % is possible for small dimensions.
Centrifugal Casting
Centrifugal casting is ideal for high quality cylindrical components. Centrifugal force is employed to exert pressure on the molten metal as it is poured into a spinning mold resulting in a dense part with a fine uniform grain structure. The integrity and wear resistance of these structures make them exceptional where there is frictional wear. Centrifugal castings are supplied in a semi or finished machine condition.
Die Casting
Die casting is a manufacturing process for producing accurately dimensioned, sharply defined, smooth or textured-surface metal parts. It is accomplished by forcing molten metal under high pressure into reusable metal dies. The process is often described as the shortest distance between raw material and finished product. We can supply are plating, shot blasting, heat treatment, anodizing, electrostatic painting, conventional machining, assembly, powder coating, polishing, buffing, sanding and washing.
Forgings
Our Forgings are produced with the highest metallurgical reliability. Those parts are made of a variety of structural steel, tool steel, stainless steel, heat-resistant steel, super alloys, titanium, aluminum, magnesium and copper alloys to meet our customers' requirements on aerospace, automotive engineering, railway industry and many other advanced engineering industries.
Machining Metal Parts
We offer a wide range of precision CNC machining, sheet metal fabrication, punching & stamping, bending, milling, turning, grinding, welding and finishing service. We specialize in quality and increased productivity through the utilization of a continuous process improvement plan. Our products are found through the world and range from high reliability machined parts for the commercial and military aerospace industries. We work with different materials. We are a capable of close tolerance machining of steel, cast iron & alloys, aluminum & brass, and most ferrous or non-ferrous metals.
Sheet Metal Parts
We manufacture sheet metal fabrications for the lighting, heating, electronics, music and allied industries. We can offer a complete sheet metal fabrication service to our customers. This may include advice on the suitability of sheet metal fabrication designs for manufacturing, sub-assembly work or finishing to the specification. We also offer complete subcontract engineering service.
Ball Screw
Our company produces and exports all kinds of linear rolling transmission parts. Our main products are cold rolling ball screws, precision ball screws, linear Bearing, linear guide, and linear slide rail. Our products are widely used in numerical control machine, metallurgy machine, packing machine, glazing machine, wood processing machine, printing machine, and chemical machine.
Chains & Shackles
We also manufacture chains ranging from Dia.3mm to 32mm, including carbon steel link chain, tire chain, stainless steel link chain and chain assemblies, covering over 300 different sizes and types. These chains are widely used in lifting, pulling, lumbering, binding, fishnet anchoring and decorating. The surface treatment we can make is bright finishing, electro galvanizing and hot dip galvanizing. The available Grades of our chains are G-28, G-43 and G70. Custom chains also can be made according to supplied drawings and/or samples. We are engaged in producing shackles, turnbuckles, wire rope clips and cast rings with a production capacity of more than several hundreds tons.
Air Spring
We supply various kinds of air springs, such as Sleeve air springs, Single, Double and Triple Convolution air springs, as well as other models. We provide air spring system to the transport industry, having particular emphasis on design and test, manufacture and supply of truck and trailer air suspension, lift axle suspensions and components to suit the OEM manufactures.
Gear Box
The main products we have are bevel/spiral, bevel/spur/worm gearbox, gear reducer and thermo electricity high pressure control valve. It involves mechanical industry, agriculture, construction, petroleum and chemical industry. We have a number of high precision processing equipments, such as CNC lathe machining center, CNC boring and milling machine, milling machines and gear shaping machine. We are working on manufacturing more than 500 kinds of gearbox.
Shock Absorber
We are one of the manufacturers who are specializing in producing the shock absorbers. The products include several series such as locomotive absorbers, mechanical engineering absorbers, bridge engineering absorbers, and automotive absorbers. There are more than 300 specifications of that which are available in wide range of automobile, diesel engine, ship engineering, railway traffic and motorcycle. Our company possesses the equipments of 200 tons, 250 tons and 750 tons magnetic die casting machines, hermetic shot-blasting machines, sandblasting machines, fatigue testers, dynamic testing machines, numerical control machines and millings.
Torque Converter
The main production of our company is one of the sheet steel torque converter and power-shift transmission, using advanced aerospace technology, developing and designing and manufacturing by itself. Our products succeed in manufacturers torque converters having 8 categories such as saloon car, construction machinery, mobile industrial vehicles, motorcycle, & specialty chassis vehicle.
Fence Netting
Our fence netting manufactory is a professional manufacturer and exporter of all kinds of fence, fence netting , safety fencing, temporary fence, welded mesh panel, Barbed Wire, razor type barded wire, Chain Link Fence, clamps accessories, construction panel, expanded metal sheet, gate, hexagonal wire netting, protecting fence, PVC coated welded wire mesh, rock netting and other wire mesh products.
Wheel Hub
We brought in the magnesium metal alloy dynamo electric car wheel hub and carry the tiny arc of cover to oxidize a surface processing technique exclusively in the industry. We have developed a production line, come to a large-sale industrialization to produce a target thus, and made products more safe and dependable.
Bearing
Our SF-type auto lubricating oil-free bearing depends on advanced technology and imported sophisticated equipments to make all kinds of sliding bearing. The SF-type auto-lubricating oil free bearing series have used in the sliding parts of various machines such as automobile, motorcycle, textile machinery, printing, tobacco, food machine, micro-electric motor, metallurgy, mining machinery and forging machine tool.