Click Here To EMAIL INQUIRY
Contact:
Sammy - Sales Manager
Web:
http://www.sukoptfe.com
E-Mail:
Address:
No.5 Lvshu 3 road, Xuejia, Xinbei District

,

Changzhou

,

Jiangsu

213000

,

China
Phone:
+86-(0)-19975113419
|
Skype:
sammy.ljf
|
QQ:
1992099191

|
Map/Directions >>
Profile: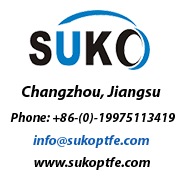 SuKo (SUNKOO) Machine Tech Co.,Ltd is a manufacturer and exporter of PTFE & UHMWPE machines. All the products are of standard quality and passed the CE, ISO & SGS certification. Our products include PTFE & UHMWPE Rod Ram Extruder, Tubing Ram Extrusion machine line, Gaskets Press Machine and Paste Extruder. We also offer Film Skiving Machine, Plastic Extrusion machine, PTFE Tubing & PTFE polymer Rod, PTFE sheets, films and PTFE polymer corrugated tubing.
Polymer PTFE Tube Ram Vertical Type Extruder Machine
PFG150 Single Screw Extruder features Vertical Ram Extruder for PTFE tube, and Ram extruding machine for PTFE tube. It is used for Pre-sintering PTFE material. PFG150 Tube Extruder is to extrude PTFE/UHMWPE Tubes. It is designed using latest technology, fully reliable and easy to operate for customers. Performance in terms of production and working hour capacity is competitive to other machines. This machine is suitable for new PTFE material or Recycle of PTFE materials.
Automatic PTFE Hydraulic Press Molding Machine
Our Automatic PTFE Hydraulic Press Molding Machine features PLC control with touch Screen. Since PTFE will not flow above its melting point, it cannot be injection molded and requires special processing techniques. Molded PTFE is processed by first compression molding the powder into preforms, and then sintering the preforms in a process analogous to sintered metal processing. This process creates geometric shapes that can then be machined, fused, and/or welded.
Polymer PTFE Sintering Furnace
PTFE Industrial Nitrogen Sintering Furnace is capable of paperless recording and group-unrestricted programming. The multiple sintering furnaces can be operated at the same time and the remote control is available. Sintering furnace features high insulating property, the temperature in the hearth is even, while the sintering curve, fixed time value and temperature value can be set up.