Profile: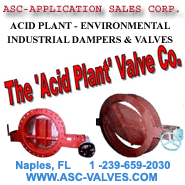 ASC designs & manufactures Heavy Duty Fabricated Butterfly, Multi-Louver, Refractory, Powercam® BV and Gate Valves for isolation/throttling of flow control.
Our Powercam® Tight Shut Butterfly Valves are fabricated to any size, temperatures to 1200F/650C and pressures to 150 psig/10 bar/345 kPa. The SS shaft is offset from both the centerline of the body and the disc. This permits 360 degree seating of the machined SS disc to the machined replaceable SS seat. The Powercams disc steep angle of approach produces a 360 degree seal of seat to disc. This camming action tightly fits the machined disc edge to the machined seat edge. Our Powercams are suited for all types of applications, dirty gases, high temperatures to 1200 D.F. and replacement of various types of shut off valves, such as gate valves.
Our Stuffing Box is designed for `0' leakage to atmosphere of internal valve gases. The packing is tightly fitted in cut square rings each at 90 degrees to the other. We utilize outboard flanged ball bearings on each shaft end for smooth unimpeded movement. Between the packing rings are 2- 316 SS lube/purge rings, one shipped packed with Rhotium HT 1000 synthetic grease, and can be purged/greased in the field during valve operation thru a SS alemite fitting. They are compressed by a flanged packing follower that has round edge flat wire die springs that apply 560# of force each. This allows the packing to self adjust in service for maintained tight shut off to atmosphere.
Our products are widely applied in acid/fertilizer plants, bag houses, dust collectors, ethanol plants, heat recovery, high temperature furnaces, hydrocarbon vapors, incinerators, regenerative oxidizers, scrubbers and solvent recovery.
Edit or Enhance
this Company (
4178
potential buyers viewed listing,
1292
forwarded to manufacturer's website)