Profile: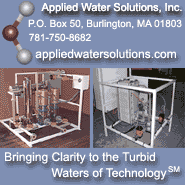 Applied Water Solutions, Inc. is dedicated exclusively to solving the pure water needs of different industries. Our best practice approach brings together the highest level of expertise with the best available technologies providing a cost effective, practical solution. We specialize and integrate the latest and most complementary technologies in: Applied Water Solutions has three business units:
Consulting Services- providing clients with Plant Evaluation Program (PEPsm), System Evaluation Program (SEPsm), Electrodeionizaiton Evaluation Program (EEPsm) and training over the past 10 years. These programs are design to improve plant operation and reliability while lowering life cycle costs.
Electrodeionization Evaluation Programs (EEP™)
Water System Evaluation Programs (SEP™)
Standard Engineering Specifications
Training and Commissioning
Review of Operating and Maintenance Programs for Operational Excellence
SDI Water Service
Equipment
- Standard and Design Build. Many times our clients are not exactly sure what they need. We offer a full range of standard water purification equipment that meets the industries needs. We also can create custom systems to meet applications that outside of our standards.
Electropurification (EP)
Electrodyalisis (ED)
Reverse Osmosis (RO)
Electrodeionization (EDI/ CDI)
Ultraviolet Light (UV)
Ultrafiltration (UF)
Ion Exchange
Gas Transfer Membrane
Service
- we provide local Service Ion Exchange, offsite and on site membrane cleanings. We also have a complete line of consumerables such as filters, membranes, UV bulbs. (picture attached for Ion Exchange service)
Design, Manufacturing and Implementation
Pilot System Management
NEW!: Water Purifications Challenges Check out new articles about Zero Liquid Discharge (ZLD) Application, Electrodeionization Evaluation Program (EEP)sm, DI Water Recycle Application .
Our product line:
Distribution Pumps: Vertical, in-line stainless steel construction complete with motors and starters. The pump motors are totally enclosed, fan-cooled design and are not overloaded as it accelerates the impeller to design speed at design operating conditions. The pump drive couplings are protected by a stainless steel coupling guard designed to meet OSHA Standards.
UV Sterilizer: Our units provide a minimum 99 percent destruction of reproducing bacteria and viruses and are constructed of electro-polished stainless steel. The units provide a minimum output intensity of 30,000 microwatt-sec/cm2 at a wavelength of 2540 Angstroms (254 nm) after 8,000 hours of operation.
Final Filter: Constructed of 316L stainless steel with sanitary tri-clamp type connections. The housings meet 3A sanitary requirements and have a minimum 180 grit, electropolished interior finish. The systems are provided with 0.2-micron, absolute rated, non-fiber releasing elements, rated to provide an initial pressure loss of 2 PSIG at 100% of the circulated flow. Other loop options include cooling, heat, ozone and chemical sanitization.
Applied Water Solutions is authorized to service GE (E-cell), USFilter (Ionpure), and Electropure EDI systems.
NEW!: Electrodeionization Evaluation Program (EEP)sm. The evaluation program will review operational and maintenance procedures of all types and models of EDI such as USF H-series, P-series, E-cell, Electropure, Ionpure, Ionics and others. The programs will evaluate current operating parameters and will recommend changes to unit operations and improvements to increase water quality and to reduce waste.