Profile: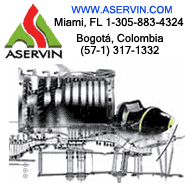 Aservin is an ISO 9001:2000 certified company providing industrial equipment and services. We are distributors for Gardner Denver Compressors, Blowers and Pumps. Gardner Denver specializes in the petroleum industry with a diverse group of durable pumps used in oil and natural gas drilling production, well servicing and stimulation.
OPI and Ajax Reciprocating Pumps
Our pump line of pump products leads the field in the petroleum, mining and major industrial and production markets. There is a model for every job, including oil pumping, pipeline and mud service, pressure testing, acidizing, cementing and snubbing units for plugging wells. We offer industrial pump applications, such as water blasting, deburring aluminum castings, descaling steel and operating hydraulic presses.
Air and Gas Compression
We offer integral compression systems for both air and gas applications through the use of either reciprocating, rotary screw or centrifugal equipment. For lower pressure applications we also provide Positive Displacement (lobe, rotary vane & screw) and centrifugal blowers. Our service includes reconditioning of existing units or substitution with new equipment. Once a system is properly sized, we provide financing, installation and operation and maintenance through a fixed period of time.
Rotary Screw Compressors
Air & Natural Gas service
Discharge Pressure up to 375 PSI
Oil flooded and oil free: 7.5-600 HP
High efficiency and quality leads to prolonged life time.
Cooling Towers
We provide the industry's leading full-line, full-service cooling water solutions. A broad range of product is available to satisfy all needs of global power generation, industrial, refrigeration and HVAC markets. Our scope of supply, in addition to new towers, includes reconstruction and refurbishing of existing water cooling equipment.
Field and factory erected cooling towers
Wood, fiberglass, steel and concrete structures
Capacities range from 10 to 500,000 gpm
Crossflow and counterflow designs
Cooling Tower Parts: Fans, Gearboxes, Fills, Eliminators
Industrial Engines
With an industrial engine range from 66 to 550 kW, Volvo Penta provides power for different applications such as:
Generating sets providing power at film locations
Power generation for emergency and remote locations where public electricity is unavailable
Irrigation units watering the desert
Forklifts and tractors in harbors & terminals
Off-Road vehicles and machinery
Fire pumps
Agricultural machinery
With engines providing excellent operating economy, low noise levels and low exhaust emissions, together with worldwide parts supply, support and service, Volvo Penta is the world leading supplier to independent generator set producers.
Electronic Diagnostics Tool
The VODIA application is used for making diagnostics on the following engines:
D3
D6 IPS
D9/D12 Marine
EGC
D4/D6
D6/D7/D9/D12/D16 Versatile (VE)
D9/D12/D16 Genset (MG/GE)
Petrol
Edit or Enhance
this Company (
7031
potential buyers viewed listing,
2306
forwarded to manufacturer's website)