Profile: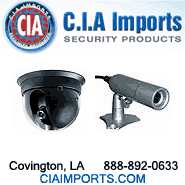 C.I.A. Imports, LLC specializes in the fabrication of Security Products. Our products include Cameras, Lenses, Monitors and Recorders. We offer a wide range of cameras that include Box Cameras, Dome Cameras, Mini Cameras, Bullet Cameras And Infrared Cameras.
We provide Video Surveillance Equipment that saves initial investment costs and for installers, allows for adequate & reasonable mark-ups to the end-user. Our 16 camera system feature 16 channel networking DVR with motion detection recording and a 120 gig drive that is used for home or business applications. It includes 16 Color Bullet Cameras. These cameras are waterproof.
We also offer Video Baluns, Cable & Connectors, Hard Drives, Housing & Mounting Brackets and Power Supplies. We deal with hospitals, gaming establishments, retail stores, churches, warehouses, automobile dealerships and private residences. We supply aluminum bracket and ivory mini steel brackets. Our Infrared Security Cameras Can be used when areas are very dark. Security in Nightclubs and in alleyways is good uses for these cameras. Video Security is taken to a new level of comfort by using Infrared cameras in areas where normal light conditions do not exist.
Edit or Enhance
this Company (
935
potential buyers viewed listing,
492
forwarded to manufacturer's website)