Profile: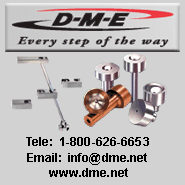 D-M-E Co. is an essential resource for molders, mold makers and mold designers. We provide mold bases and components, hot runner system, mold controls, Master Unit Die (MUD) mold inserts, die cast tooling technology & all the supporting resources. We develop a logistics infrastructure that ensures speed and accuracy. We have the industry's broadest line of mold technology products and services.
MoldBasics Mold Bases
Our MoldBasics line of mold bases are ideal for a variety of applications including prototyping or short runs which require fewer standard features and a dramatically lower cost.
Quick Change Systems
Our Master Unit Die (MUD) Quick-Change Concept is introduced to provide plastics industry customers with precision tooling that facilitates maximum manufacturing efficiency, at an attractive cost. Our Master Unit Die system offers four master frame series and four basic Quick-Change unit mold styles.
Hot Runner Systems
We offer a full spectrum of essential hot runner systems and components from hot sprue bushings to complete turnkey hot halves ready to bolt-on & operate. We introduce Galaxy™ Hot Runner Systems perfect for the challenges of high-cavitation applications. We develop a new generation of hot runner systems that will give new power to compete.
Control Systems
We provide a full range of control products that include temperature controls and mold pressure sensors, for a broad spectrum of applications. There is a Smart Series solution for everything from economical hot sprue bushing temperature control to multi-zone hot runner control for high-cavitation molding. Our line of cavity pressure sensors, combined with our process controllers, ensure accurate, reliable control of peak cavity pressures.
Edit or Enhance
this Company (
1586
potential buyers viewed listing,
568
forwarded to manufacturer's website)