Profile: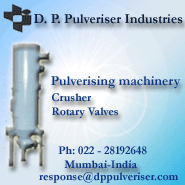 D. P. Pulveriser industries, a pioneer in pulverising/pulverizing machinery manufacturers in India for the last 43 years with a wide range of pulverising machinery. D. P. Pulveriser industries is a company committed to provide finest products in size reduction equipment for crushing, grinding and air classification of Activated Carbon, Agricultural Chemicals, Animal, Marine & Poultry feeds, Asbestos, Carbon Black, Cocoa, Coffee, Clay, Coal, Charcoal, Coke, Coconut Shell and Wood Saw dust, Dals, Detergents, De-Oiled Cakes, Dry Soap, Dyes & Pigments, Fertilizers, Ferro Alloys, Fillers, Food Products, Gaur Gum, Henna Leaves, Herbs & Spices, Insecticides & Pesticides, Kaolin, Katha, Moulding Powders, Pharmaceuticals, Plastics, Resins, Starch, Stearates, Sugar, Tapioca Chips & Special Machines For Aluminium, Brass, Copper & Zinc. Dust Extaction Systems, Pneumatic Conveying Systems & spice Grinding Plants.
D. P. Pulveriser industries has more than 3000 units, installed in India, and has credentials for exporting many pulverising machinery, pneumatic conveying systems & dust extraction systems to Nepal, Bhutan, UAE, Bahrain, Kuwait, Saudi Arabia, Mauritius, Philippines, Malaysia, Hong Kong, Singapore, Kenya, Tanzania, Nigeria, Zambia, South Africa & also to technically advanced countries like Australia & Canada, where the Pulverizers are in operation to the complete satisfaction of our esteemed clients.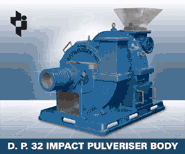 D. P. Impact Pulveriser The D.P. Impact Pulveriser / Pulverizer is a versatile grinding unit of heavy and rugged construction and built for continuous operation day after day. The unit is especially designed for the medium fine, and fine size reduction.

Application: The D.P. Impact Pulverizers are used for a wide range of application e.g. Agricultural Chemicals, Carbon & Graphite, Coal, Coke, Coconut Shell & Wood Saw Dust, Clay, Dye Stuff & Pigments, Detergents, Ferro Alloys Fertilizers, Fillers, Food Products, Herbs & Spices, Insecticides and Pesticides, Katha, Marine feeds, Minerals, Plastics, Pharmaceuticals, Resins, etc.
Specifications of Impact Pulveriser
Type of Classification
Screenless (Whizzer Type)
Mill Size
D.P.-15
D.P.-20
D.P.-25
D.P.-32
D.P.-42
Motor H.P.
7.5-10
15-20
25-30
50-60
100
Max. Feed Size
10mm
15mm
20mm
25mm
30mm
Mill RPM
3000
2200
2000
1800
1600
Fineness Range
60-325 Mesh B.S.S.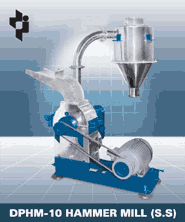 D. P. Hammer Mill The D. P. Hammer Mill comprises of a heavy duty Mild Steel fabricated body (alternatively stainless steel construction can be provided in hammer mill wherever necessary). The grinding chamber of hammer mill is lined with serrated wear plates, which protects the body from wear and tear. A balanced rotor in hammer mill with a set of Swing Hammers accelerates the grinding process. The screen classifier forms the lower half of the grinding chamber of hammer mill. The blower in hammer mill is driven on a separate shaft with the help of a 'v' belt adjustable driven from the rotor shaft.

Application: The D. P. Hammer Mills can be used for a wide range of application e.g. Animal & Poultry Feeds, Chemicals, Food Products, Herbs& Spices, Marine Feeds, Moulding Powders, Dry Soap, Charcoal, Tea, Coffee, etc. Outstanding Features include Improved Grinding Efficiency, Accurate and Consistent Product G0rinding, Low Specific Power Consumption, Low Temperature Rise for Heat Sensitive Materials
Specifications of Hammer Mill
Type of Classification of Hammer Mill

Screen Type of Hammer Mill

MILL SIZE
D.P.H.M.-10
D.P.H.M.-20
D.P.H.M.-40
D.P.H.M.-50
Motor H.P.
10
20
40
50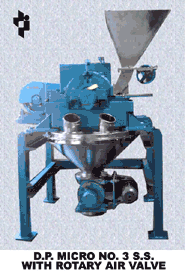 D. P. Micro Pulveriser The D.P. Micro Pulverisers is a high-speed hammer and screen mill, which accomplishes size reduction by mechanically impacting process material. This method of size reduction is characterized by relative high energy and short residence time, minimizing heat build up during the milling process.

Application: The D. P. Micro Pulverizers, can be used for a wide range of application e.g. Activated Carbon, Animal Feeds, Carbon Black, Chalk, Cocoa, Starch Dyes, Fine Chemicals, Gram Flour, Kaolin, Pigments, Sugar, etc.
Specifications of Micro Pulveriser
Type of Classification
Screen Type
Feeding
Screw Type
Model Type
Mill Motor
Feed Motor
Mill RPM
D. P. Laboratory Micro
1 H.P.
NIL
9600
D.P. Baby Micro
1.5 H.P.
0.5 H.P.
9600
D.P. Micro No. 1
5 H.P.
0.75 H.P.
8400
D.P. Micro No. 2
10 - 15 H.P.
0.75 H.P.
6900
D.P. Micro No. 3
20 - 30 H.P.
0.75 H.P.
4600
D.P. Micro No. 4
50 - 60 H.P.
3450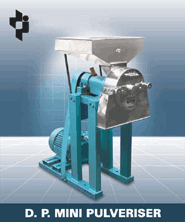 D. P. Mini Pulveriser The D. P. Mini Pulveriser comparises of a heavy duty Mild Steel/Stainless Steel body, which comprises of a feeding hopper, with a feed regulator slide. The pulveriser body is inlaid with a delivery trought attached at the bottom, with a delivery trough attached at the discharged end. The rotor & beater are mounted on shaft, running in a ball bearing housing at a speed of 4500-6000 R.P.M. The whole unit is mounted on a strong steel channel stand.

Application: The D. P. Mini Pulverisers are widely used for grinding of both dry/wet spices, green chilly, fresh ginger, garlic, fresh fruits, vegetables. These machines can also be used as a fruit finisher. The D. Mini Pulveriser can also be used for the following dry applications like agricultural chemicals, broken biscuits(hi-fat/low fat), custard powder coffee, charcoal, dals, dyes & pigments, fillers, henna leaves, herbs, leaves and rootsm instant foodsm insecticides andn pesticides, kaolinm moulding powders, pharmaceuticals, plastics, poultry feed & marine feed, resins, sugar(biscuit grade/icing grade), stearates, tea etc.
Specifications of Mini Pulveriser
Type of Classification
Screentype
Mill Size
D.P.-Mini 6
D.P.-Mini 7
D.P.-Mini 8
D.P.-Mini 12
D.P.-Mini 18
Motor H.P.
2
3
5
10
20
Max. Feed Size
8mm
10mm
12mm
15mm
20mm
Mill RPM
6000
6000
6000
4500
4500
Fineness Range
2-100 Mesh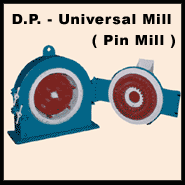 D. P. Universal Mill The D.P. Universal Mills find applications in fine and ultra fine size reduction of soft to medium hard products, with an upper hardness limit between 3 and 4 on the Mohs hardness scale for minerals. The D.P. Universal Mill casing and doors that can be closed by screwing down a hand wheel. At the rear side of the case there is a bearing body with the drive shaft that runs on rolling bearing and carries the interchangeable crushing elements.

Applicaton: The D.P. Universal Mills are used for fine grinding or a wide range of material such as, aluminium oxide, bentonitem calcitem cardamom, cellulose acetate, chalk, colves, coating powders, cocoa, corn starch, dextrose, fennel, garlic, gelatine, graphite, gum arabic, gypsum, kaolin, lactose, magnesiun carbonate, melamine resins, metallic stearates, micam milk powder, nutmeg, onions, peetins, pepper, pharmaceuticals, plastics, senna leaves, spices, starch products, sugar, talc, tapioca, zinc oxide, etc.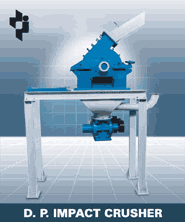 D.P Impact crusher D.P. Pulverisers manufacture a large variety of Impact Crushers to virtually any size reduction job. The extremely rugged construction of Impact Crushers ensures a long life with minimum maintenance easy to install and economical to run. The shell of Impact Crusher is lined throughout with MS, Cast Iron or Manganese Steel, according to the size of Impact Crusher and duty required. We can provide a Impact Crusher to reduce almost any material to the size required.

Application: The Impact Crushers are used for crushing or shredding of diverse materials such as: Limestone, Glass, Coal and Lignite, Clay, Sand, Phosphate, Rock, Fertilizer, Aluminium Oxide, Slags, Coke, Silica, Bauxite, Dolomite, Grain, Barytes, etc.
Specifications of Impact Crusher
Model
H.P
R.P.M.
Grinding Chamber
Max FeedSize (mm)
Dia (mm)
Width(mm)
D.P.I.C.-10
D.P.I.C.-20
D.P.I.C.-30
D.P.I.C.-40
D.P.I.C.-50
D.P.I.C.-60
D.P.I.C.-70
D.P.I.C.-80
7.5
10
15
25
50
60
80
100
4000
4000
3000
3000
2500
2500
2000
2000
275
275
375
375
600
600
750
750
150
200
200
300
300
400
400
500
25
30
50
50
75
75
100
100
D.P. Air Classifier-Whizzer Type Air Classification is the process of separating particles according to the settling velocity in a gas. Air Classifiers are used to separate dry materials into different particle size fractions by their size, mass or shape. Air Classifiers are used to modify a particle size distribution, remove the fines fraction of a material or the over size or coarse particles of a material or create two grades of material.

Application: The D.P. Air Classifiers are used for a wide range of applications e.g. Cement, Limestone, Soya flour, Hydrated lime, Food Products, Chemicals, Talc, Clays, Metallurgical Powders, Pigments, Fly Ash, Silica, Aluminium Oxide, Graphite, Calcined Magnesite, P.V.C. Resin, Asbestos, Barytes, Quartz, Feldspar, Coal, etc.
Specifications of Air Classifier
Air Classifier Size
D.P.A.C. 375
D.P.A.C. 750
D.P.A.C. 1000
D.P.A.C. 1500
D.P.A.C. 2000
Approx. Feed Rate
Kgs./hr.
From
50 Kgs
100 Kgs
200 Kgs
400 Kgs
800 Kgs
To
250 Kgs
500 Kgs
1000 Kgs
2000 Kgs
4000 Kgs
Normal Rotor Speed
R.P.M
1400
1050
800
520
400
Motor H.P.
3 - 5
7.5 - 10
7.5 - 10
15 - 20
20 - 25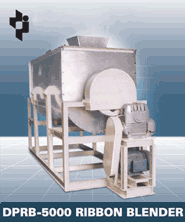 D. P. Ribbon Blender The D.P. Ribbon Blenders are based on a proven agitator construction that provides a triple mixing action thus ensuring fast efficient blending. The dimensions and configuration of the ribbons in Ribbon Blender are carefully balanced to provide a movement of material within the container that avoids dead spots and gives rapid product discharge. The design of the D. P. Ribbon Blenders can incorporate features required for a customer's product or process such as: wear resistance, corrosive resistance, vacuum filling and discharge arrangements, special shaft seals, heating/cooling jackets. Ribbon Blenders are available in sizes 50-5000 liters in S. S. 304, S.S. 316 & M.S. construction.
D. P. Pneumatic Conveying System (Dilute Phase Conveying) Pneumatic Conveying has decisive advantages in conveying dusty products over mechanical conveying, low space requirements and low maintenance. Also it is flexible in construction, can be easily automated, provides dustless conveying without loss of material and is thus also safe for products hazardous to health. A conveyable product is transported through a pipe by using a certain quality of gas [air or nitrogen]. The product particles are freely moving with the high gas velocity and a low product to air ratio. The different types of Pneumatic Conveyors are

A) Vacuum Conveying System: D. P. Vacuum Conveying System works on negative pressure for conveying the material from one or number of pickup points to one discharge point. This system is best suitable for providing dust free conditions around inlet.

B) Pressure Conveying System: D. P. Pressure Conveying System conveys bulk material by air under pressure. This system offers advantages of conveying material from one place to one or number discharge points.

C) Combined Vacuum-Pressure Conveying Systems: D. P. Combined Vacuum- Pressure Conveying System conveys the material from various pick-up points to various discharge points, it is also used where vacuum pick-up and pressure delivery is required.

D) Closed Loop Conveying System: D. P. Closed Loop Conveying Systems are designed for handling, explosives and hazardous materials. The conveying gas is usually nitrogen for explosive materials, and dry air is used for handling hygroscopic materials.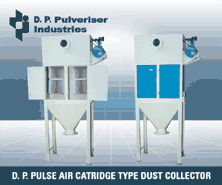 D. P. Pulse Air Cartridge type Dust Collectors

Application: Cartridge type dust Collectors are Cartridge filters with automatic cartridge cleaning by compressed air pulses. Dust Collectors serves for the dry separation of dust from exhaust air in areas such as Plastic Processing,Pharmaceutical, Food processing, Cement and Mineral, Powder Coating, Pneumatic transport of solids and Air conditioning Plants.

Characteristic Features:
- Pleated filter material offers multifold filter area [5 to 6 times] compared to standard filter elements with same specific dust loading in Dust Collectors.
- Highly efficient filter cartridges imported from R & B filter GmbH. Germany is used in Dust Collectors.
- Filter medium in Dust Collectors made of paper or synthetic non- woven material made of needle felt depending on application.
- Compact construction leading to modest floor space requirements.
- Dust Collectors low compressed air consumption combined with high efficiency reverse pulsejet cleaning with venturi nozzle.
- Operating temperatures up to 80 degree centigrade and up to 200 degree centigrade on request.
- Material of construction in Dust Collectors: stainless steel or mild steel.
- Long life - better quality- economical and reliable solution to any dust extraction problems.
- Complete filter unit quipped with compressed air header, pulse piping valve, pulse timer, Filter Cartridge, venturi nozzle and pressure manometer.