Profile: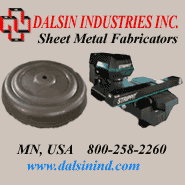 Dalsin Industries, Inc. is a custom sheet metal fabricator. We specialize in the manufacture of customer designed sheet metal enclosures, cabinets, door panels, drawers, and other complex assemblies. We also provide design engineering support, and complete Contract Manufacturing including packaging/fulfillment. Our precision sheet metal manufacturing capabilities include:
Sheet Metal Fabrication
Sheet Metal CNC Panel Bending with Salvagnini Equipment/Technology
Metal Stamping in aluminum, steel and stainless
Complete Assembly/Contract Mfg.
Precision Robotic Welding
Product capabilities:
Our custom sheet metal fabrication processes utilize state of the art CNC laser cutting, turret punches, Salvagnini CNC
Sheet Metal Panel Bending
(3), press brakes, and robotic welding cells (3) linked to a centralized CAD/CAM program.
Dalsin Industries produces metal cabinets, drawers, enclosures, panels and shelving to industries including air conditioning, heating equipment, automatic vending machines, kiosk assemblies, building racking and shelving systems, electrical and electronic equipment, farm machinery and equipment, food products machinery, furnaces and ovens, industrial trucks, tractors and trailers, metal home and garden furniture, motor homes, prefabricated metal building structural components, travel trailers and campers, and truck and bus bodies. With 60+ years experience and state of the art manufacturing facility, Dalsin Industries can meet the sheet metal fabrication needs of large and small customers alike.
Stamped Products:
Products that require shearing, punching, and bending may be reduced to one operation with our 250-ton Minster Mechanical Power Press. Our Minster 250-ton servo feed mechanical metal stamping press line is the most efficient way to produce large recurring part runs in aluminum, stainless, and CR steel.
Lasered Products:
As a premier provider of laser cutting services, we combine state-of-the-art laser cutting technology with service and attention to detail. Our experienced staff of operators, programmers, material handlers and sales professionals has expertise with a wide variety of applications ranging from art pieces to aerospace.
Welded Products:
Our welding capabilities include both robotic welding and manual welding in MIG and TIG with extensive experience in welding aluminum, steel, and stainless steel. In addition, our spot welding capabilities provide the tools & know-how to join both smaller and large parts (up to 14 feet in length).
Metal Cabinets/Enclosure Assemblies:
We supply Custom Industrial Steel Shelving, Metal Cabinets, and Metal Shelving assemblies in aluminum, stainless or steel materials. We also make use of pre-painted metal in both steel and aluminum to save cost for our metal cabinets, metal shelving, and industrial shelving. Our products are used for a variety of industries, including Telecom, Medical, Industrial and Consumer Goods.
Doors, Drawers and Panels:
We produce quality custom precision sheet metal doors, drawers and panels. Examples of items we produce include:
Electrical cabinets, control boxes and enclosures
Precision panels for computer chassis, heat exchangers and vending machines
Tool drawers for utility trucks
RV door panels
Our manufacturing processes include
Laser Cutting, Salvagnini Panel Bender, Robotic Welding, Assembly & Welding, Engineering Services, Minster Mechanical Press, Press Brakes and Strippit Turret Punching
. We are equipped with the latest in forming technology. We have press brakes capable of forming parts up to 14-feet in length, 40 inches in depth and with tonnage requirements up to 225 tons.
Laser Metal Cutting: With our laser metal cutting technology, we are more flexible in scheduling orders because of our 24/7 operating capacity. Our equipment enables us to provide quick turn prototyping and rapid start-ups on laser cutting production orders. The automated laser sheet metal cutting technology allows us to be more flexible for our customers. We can stage several types and sizes of materials to be Lasered for many different jobs in one setup. This continuous production reduces cost and increases productivity of our laser metal cutting services.
Our large capacity assembly area can accommodate most assembly jobs. Our engineers work with our customers to reduce costs by streamlining the assembly process. As a full-service sheet metal fabricator, Dalsin Industries offers our customers complete contract manufacturing solutions including design and engineering assistance.
Manufacturing Process | Lasered Metal Cutting | Press Brake Forming |