Profile: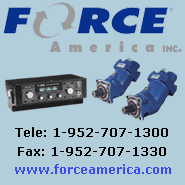 Force America, Inc. is a supplier of motion and control systems. We provide systems and components to the on/off highway mobile and agricultural markets. We also offer an array of engineering services and technical support. Our Training and Education Division customize courses from basic hydraulics through sophisticated system designs. Our Valve Manufacturing Division designs and manufactures cartridge valve elements and integrated hydraulic circuits. Our Electrical Manufacturing Division designs and manufactures electronic circuits, electrical assemblies and turn-key control systems. We produce weldments, reservoirs, enclosures and custom fabricated assemblies for a wide variety of applications. DV and QV Air Controllers. Our DV and QV Air Controllers are pneumatic proportional controllers used to remote control hydraulic directional control valves and variable displacement piston pumps. Ground based Closed loop Spreader Control. Our SSC5100 is a micro-processor based spreader control used for accurately applying up to four identifiable materials, pre-wetting, and anti-icing liquids. The SSC5100 can be used in closed-loop, open-loop or manual spreading operations.
Tank Mount Filter Assemblies
Our TEF/TEFB series of tank mount filters are designed to be compact and light weight. At the heart of the filters is a multi-layered "interpor fleece" micro glass fiber media, providing exceptional filtration performance.
Pumps and Motors
X series pumps are compact, lightweight, high performance pumps designed specifically for demanding mobile applications where weight and size are critical. Our PVWH 34/45 variable displacement piston pumps are specifically designed for severe duty mobile applications. Our TXV series pumps are ultra compact light weight, high performance pumps designed specifically for mobile applications.
Edit or Enhance
this Company (
2024
potential buyers viewed listing,
531
forwarded to manufacturer's website)