Profile: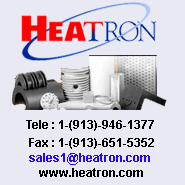 Heatron Inc. specializes in innovative heating element and thermal management designs & solutions. We are an ISO 9001:2000 certified company. Our products are utilized for a variety of applications in the LED lighting, automotive, appliance, military defense, computer, medical, industrial controls and communication markets.
LED Lighting Solutions
We offer a wide range of design and development services, technology competencies that include optics, thermal management, power sources and drivers. Using a thermal management technology, featuring their proprietary Elpor® coating, we provide custom designed assemblies, utilizing an automated SMT line and hot bar solder capabilities. This includes placement of LEDs and other electronic components.
Heating Applications
Medical Heater Applications
Automotive Heater Applications
Environmental Protection Applications
Packaging Heater Applications
Plastic Molding Heater Applications
Photo Processing Heater Applications
Semiconductor Heater Applications
Semiconductor Heating Solutions
We specialize in design, integration and production services for heating systems for semiconductor equipment. Our flexible heater product line features S.N.A.P.(Semiconductor N'Sulated Application Process) heaters for gas line, fore line and exhaust line applications from gas cabinets to scrubbers. All of these heating solutions are manufactured under an ISO 9001 registered quality system.
CastIn Heater Technologies
Our line of CastIn Aluminum and Bronze industrial heating elements & cast parts are available in standard & custom sizes specially suited for a wide variety of applications.
Application Advantages
High heat input and output
Long life expectancy
Uniform temperature
Superior cooling
Rugged construction
UL and CSA recognized
Edit or Enhance
this Company (
4201
potential buyers viewed listing,
625
forwarded to manufacturer's website)