Profile: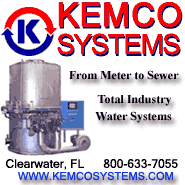 Kemco Systems, Inc. specializes in water heating, plant sanitation, heat recovery, water filtration, wastewater treatment and related processes. We provide high efficiency, environmentally friendly water heaters, heat recovery, and water treatment systems, guaranteeing performance that will save water, labor, energy, sewer and chemical costs.
Total Water Systems
We provide solutions for water treatment, water filtration, and water processing needs. The industries that we serve include, commercial laundries, ready mix concrete, precast prestressed concrete, meat processing, poultry processing, food processing, dairies, beverages, textiles, tannery, automotive, hospital laundries, hotel/resort laundries, department of defense, aquaculture, tanks, truck & car washing, pulp & papers, correctional institution laundries and mat processing.
Fresh Water

Process Water
Heat & Heat Recovery

Wastewater

Treatment for Discharge
Wastewater Recycling
Boiler Stack Economizer
During the boiler operation, water for the hot water process enters the top inlet of the economizer and is sprayed over the heat transfer media. Simultaneously, boiler flue gas is directed to the flue gas inlet, at the base of the economizer. The water travels from the spray nozzle counter flow, from the rising flue gas through the stainless steel transfer media. As the water droplets travel through the media, the hot flue gas rises to the top of the economizer preheating the water.
Final heating of the water takes place in the direct contact chamber. A transfer pump or gravity can move the preheated water to a hot water storage system, then onto our direct contact water heater.
Wastewater Heat Recovery
Our Wastewater Heat Recovery System captures the heat from the process wastewater to pre-heat incoming fresh water. Wastewater is pumped to the tube side of the heat exchanger. Fresh water enters the heat exchanger shell and flows around the tubes in a direction counterflow to the wastewater within the tubes. As the fluids pass one another in opposing directions, heat is transferred through the walls of the stainless steel tubing, preheating process water typically to over 100°f.
High Pressure Plant Sanitation
Save Labor
Save Fuel And Energy
Reduce Chemical Usage
Reduce Water Usage
NSF/ANSI 5 & 3-A Certified
Certified Potable Water
Low NOx Available
Ceramic Microfiltration System
In our Ceramic Microfiltration System, Contaminated wastewater is fed through ceramic filter channels at a high velocity. The ceramic filters are coated with fine porosity membranes which reject solids in the sub-micron size range. Clear filtered water permeates through the membrane and is discharged for recycling or discharge. Rejected contaminants flow from the filter channels and are collected and discharged in a concentrate waste stream.
Air Sparged Hydrocyclone
Wastewater enters the Air Sparged Hydrocyclone chamber forming a cyclonic motion, swirling the fluid downward. Simultaneously air is introduced via a porous membrane. Air then contacts waste swirl, shearing into fine bubbles. Air to contaminant contact is intense and complete. Air and solids are evenly distributed across the entire surface area. Two distinct layers are formed, cleaned water and foamed sludge.
Flash Steam Recovery
Our Flash Steam Recovery System is a conventional means for preheating and heating water. Each pound of condensate gives up approximately 144 BTU in the form of steam before it becomes water at 212°F. This surplus of 144 BTU flashes to vapor and escapes from the vent of the condensate receiver. This represents a loss of approximately 12% of a plant's fuel consumption.

Benefits:
Eliminate Boiler Flash Steam Energy Loss
Less Than 1 Year Payback
Efficient Reliable Means To Heat Water
Reduces Boiler Blowdown
Little Maintenance Or Adjustments