Profile: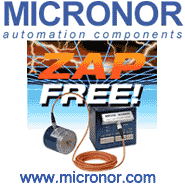 Since 1968, Micronor has been a leading global supplier of industrial automation and motion control sensors and feedback transducers for industrial, mil/aero and other harsh environment applications. Micronor is a manufacturer of fiber optic and conventional rotary encoders, resolvers, cam timers, motorized potentiometers, rotary limit switches, geared feedback transducers, manual pulse generators, handheld pendants, and ZapFREE EMI-immune encoder cables.
New MR310 Series ZapFREE Fiber Optic Rotary Encoder is world's first totally passive, fiber optic rotary encoder for harsh and hazardous environments. Immune to EMI/RFI, ground loops and lightning. Intrinsically safe and ATEX certified. Radiation resistant. Allows link lengths to 1000 meters. Shafted and hollow shaft. 100-1024ppr. Extended temperature range option covers -60C/+150C.
New MR121 ZapFREE encoder cables solve interference, ground loop and other transmission problems based on an embedded fiber optic solution with copper convenience - No Design Changes Required. Available for BEI, EPC, Kubler, Micronor, etc.
New MR267 4-20mA remote control and MR265 4-20mA feedback options are now available on Micronor's broad range of motorized potentiometers, cam timers and rotary limit switches.
New MR175 Hand Held Pendant offers an ergonomic form factor which can also be easily customized for OEM applications. Available in either serial interface or hardwired versions.
MICRONOR also represents ELGO Magnetic Linear Encoders, GYSIN swiss gear boxes and SAIA-BURGESS displays-timers-counters-tachometers.
Edit or Enhance
this Company (
6571
potential buyers viewed listing,
1530
forwarded to manufacturer's website)