Profile: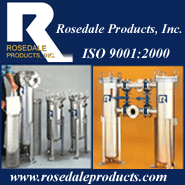 Rosedale Products, Inc. is a leading technology developer in the field of Liquid Filtration Systems and Waste Minimization Products for the process industries. We specialize in the manufacture of Bag Filters and Basket Strainers. We also provide comprehensive solutions for every critical industry filtration need. We are an ISO 9001:2000 certified company. Our product line includes:
Baskets
Filter Cartridges
Bag Sized Cartridges
Depth Filtration Bags
Single Layer Bags
Filtration Systems
Cartridge Housings
Single Bag Housings
Rosedale Filter Housings come in many sizes and styles, and all serve as bag filters, cartridge filters or basket strainers. Housing covers are easily removed without special tools, and the element is easily cleaned or replaced. It is available in two models such as Multi-Basket Model and Duplex Models. Multi-Basket Models offer a wide range of flow capacities and contaminant-holding capabilities. They contain 2 to 23 same-size baskets and can handle flows from 400 to 4500 gpm. Multi-cartridge housings contain 2-205 cartridges. Duplex Models are two housings that are piped together for alternate use, providing continuous operation, reducing operating costs. Flow is switched back and forth between the filter housings, allowing one side to be serviced while the other is in use. One lever actuates all valves simultaneously. All Duplex Models are also available in a trouble-free automatic service system.
Cartridge Filter Housings offer a wide range of flow capacities and contaminant holding capabilities. The housings can accommodate from 1 to 205 cartridges around. It features include low pressure drop, permanently piped housings are opened without special tools and without disturbing the piping, machined cover gasket groove provides positive O-ring sealing, easy to clean, in-line inlet and outlet & stainless steel internals. Unfiltered fluid enters the housing and is distributed evenly around the cartridges, from outside to inside. Solids are collected on the outside for easy removal. The filtered fluid then exits through the outlet pipe.
The Multi-Basket Strainers and Multi-Bag Filters offer a wide range of flow capacities and contaminant-holding capabilities. They contain from 2 to 23 baskets. It is available in various designs that include Quick Access Cover, Low Profile Design Housings, Spring Assisted Hinged Cover and Standard Housing Design. Quick Access Cover features a clamp and spring assisted hinged cover that is quick and easy to open and close with no tools required. The QAC is rated to 150 PSI and constructed to meet ASME code requirements. Low Profile Design Housings are compact and space saving, allowing for ease of bag change-out. Standard operating height is reduced, resulting in a safe design by eliminating platforms and ladders. Standard Housing Design is durable and economic. It includes a davit arm and hand wheel to facilitate cover removal.
Our Basket Strainer and Bag Filters are made in 2 sizes and 4 pressure ratings. In all cases, covers are easily removed without special tools, and the basket or bag is easily cleaned or replaced. Our Bag Filter Housings are low in cost and offer more dirt holding capacity. These housings are made from carbon steel or stainless steel. They use a newly designed clamp cover that is easily removed; reducing time spent on cleaning and bag replacement. Polyethersulfone Membrane Cartridges are designed for general industrial service where the need for cost effective filtration is a must. These cartridges utilize a pleated membrane design, incorporating the maximum amount of media that can be used in a cartridge. These units, manufactured for general industrial use, are manufactured to the same high standards as our special application cartridges. Pore sizes start at 0.03 µm with a polyethersulfone membrane.
Edit or Enhance
this Company (
4687
potential buyers viewed listing,
2196
forwarded to manufacturer's website)