Profile: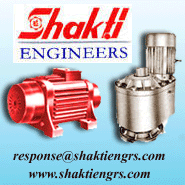 Shakti Engineers specializes in the manufacture of Geared Motors, Rotary Vibrators, Gear Boxes, Helical, Worm and Epicyclic Type In Different Mountings. We also offer Bin Activator, Vibro Equipments and Vibro Seperators.
Geared Motors are designed to provide a most efficient, economical and compact drive for low speed Applications. It is a most compact drive for low speed Applications. It is a combination of an electric motor (AC or DC) and a gearbox converting the high speed of the prime mover to low speed with maximum efficiency.
Rotary Vibrators are totally enclosed, surface cooled units operating on 400/440 volts 3 phase, 50 cycles, A.C.Supply. The vibrating frequency depends on the revolutions of the rotary unit. The amplitude of these vibrations is between 2 mm to 4 mm and the Centrifugal Force can be adjusted from Maximum to zero by manipulating the relative positions of the eccentric weights provide on either end. Various models are available giving a wide choice of Centrifugal Force, Frequency of Vibration, Mounting Position and Insulation. These are suitable for mounting on Construction Machines, Bin & Storage silo, Plants, Dehydration Screens, Vibrating Feeders & Tables, Conveyors, Moulds & Form work, Surface finishing machines, Crushers, Rammers and many other applications.
Gear Boxesare Helical Inline Gear Boxes, which is designed to mount flange type I.E.C. Standard Electric Motors. Inline Helical Gear Boxes are suitable for coupling to I.E.C. Standard motors. We offer Worm Gear Boxes from 1 1/8" Crs to 10 1/2" Crs 7:1 Ratio to 60:1 Ratio having universal, horizontal, flange type of mountings suitable for coupling to the prime mover. Our Hollow Shaft Helical Geared Motors are flange mounting type motors. These are most suitable for stirrer duty. The depth of the stirrer can be adjusted freely without disturbing the arrangement. Vibro Separator is a screening unit Vibrating in three planes along the vertical axis.
Product Catalogs: