Profile: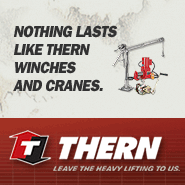 When it comes to equipment for heavy duty lifting, pulling and positioning, Thern has the experience and expertise you are looking for. Large or small, heavy or light, Thern has designed, manufactured and delivered hundreds of standard and custom cranes and winches for countless customer applications around the world.
More than 60 years of experience in solving lifting, pulling and positioning problems
Quick response from a service oriented team dedicated to exceeding your expectations
Engineered solutions to meet your exact requirements
Reliable products manufactured by a company with a heritage of quality
Flexible designs for quick delivery of build-to-order products
Highest quality components and workmanship with a tradition of excellence
'Move It With Confidence' 2 year limited warranty.
Thern products are manufactured to the highest industrial and quality standards because your application is our application. Our experienced engineering and technical sales staff bring total customer commitment to every project. Working closely with you every step of the way, we make sure you are completely satisfied and receive the best product available for your application.
Edit or Enhance
this Company (
1654
potential buyers viewed listing,
1259
forwarded to manufacturer's website)