Profile: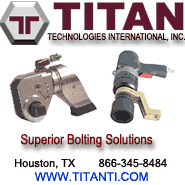 Titan Technologies International, Inc. is a manufacturer of hydraulic torque wrenches, pneumatic torque wrenches, square drive hydraulic wrenches, hydraulic bolt tensioners, hydraulic nuts, hydraulic bolt tensioning, a full line of bolting accessories, impact sockets and flange spreaders. All of our products are designed using the latest aerospace finite element design techniques and machining technology.
We provide pneumatic torque tools for continuously rotating, loosening or tightening of bolted connections. Induction bolt heating is used to remove galled nuts that have seen numerous hours of cyclical temperature and pressure. Now, bolt holes, as seen in turbine studs, are no longer needed.
Our stud tensioner utilizes the power of hydraulic pressure to easily produce the forces necessary to effectively tension bolts and studs. Spring retract sub sea tensioners give positive return of the hydraulic piston. They do not rely on the use of an additional pump system or the efficiency of seal arrangements, thus providing simple and very reliable operation. Reactors, exchangers, valves, turbines can all be opened and closed rapidly with our simultaneous bolt loading system. Hydraulic nuts use the strength of hydraulic pressure in order to easily create the forces necessary to efficiently tighten bolts and studs or tie-rods.
Edit or Enhance
this Company (
6000
potential buyers viewed listing,
1979
forwarded to manufacturer's website)