Profile: Titanium Tantalum Products Limited is an ISO 9001: 2000 certified company. We are a diversified multi product company with an undisputed leadership in the field of exotic metal chemical equipment design, manufacturing, erection/commissioning and services since 1981. We specialized in design, manufacturing and refurbishment of heat exchangers, pressure vessels, reactors, tanks, pumps, industrial valves, blowers, columns & towers, pipes & fittings, fasteners, cathodic protection anodes, electrodes for electrochemical applications, electrochlorinators and electrolyzers etc.
Materials handled: Titanium, Tantalum, Zirconium, Niobium, Nickel, Monel, Inconel, Hastelloy, Incolloy, Cupro Nickel, Duplex and, Super Duplex.
Heat Exchangers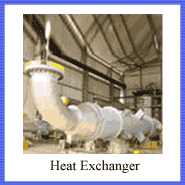 Heat exchanger (shell & tube, coil, plate, U tube bundle, double pipe, flot type exchangers) is used to control a systems or substances temperature by adding or removing thermal energy. Our heat exchangers are available in many different sizes, levels of sophistication and types. Inside a heat exchanger, the flow is either turbulent or laminar. Turbulent flow produces better heat transfer, because it mixes the fluid. Laminar flow heat transfer relies entirely on the thermal conductivity of the fluid to transfer heat from inside a stream to a heat exchanger wall.

Types of heat exchangers we offer: shell & tube heat exchanger, "U" tube bundle, plate type heat exchanger, coil type heat exchangers, double pipe heat exchanger, double tube heat exchanger, floating head heat exchanger, fin tube heat exchangers, lined, cladded exchanger.
Accessories: tube sheet, heat exchanger tubes, heat exchanger tie rod (rods), heat exchanger baffle plates, lined, clad exchanger shell.
Chlorate Electrolytic Process Anodes


In chlorate industries Sodium Chlorate (NaClO3) and Potassium Chlorate (KClO3) are manufactured by means of electrolytic process using chlorate electrolyzer.
Sodium chlorate (NaClO3) and Potassium chlorate (KClO3) are manufactured by the electrolytic oxidation of Sodium Chloride (NaCl) or Potassium Chloride (KCl) respectively using chlorate cells, where in TiTaN's mixed metal oxide coated titanium anodes are used. In the electrolytic process of chlorate manufacturing three types of chlorate cells are being used:
tank type chlorate cell (mmo plate anode, mmo mesh anode)
modular type chlorate cell (mixed metal oxide plate anode)
hydrogen lifting type chlorate cell (mmo coated anode fins)
TiTaN's specially treated, Mixed Metal Oxide coated exotic metal anodes and electrodes are used in all types of chlorate and per-chlorate cells globally.
MMO Coated Anodes are manufactured by coating a mixture of precious metal oxides on a specially treated precious metal. The coated substrate undergoes multiple thermal treatments at elevated temperatures to gain good bonding properties between the substrate & coating. This bonding property increases the lifetime of anodes. Titanium is widely used as substrate material for its well-known characteristics like, resistance to corrosion, resistance to chemical attacks and its high mechanical strength.
TiTaN's Tantalum, Niobium and Zirconium anodes are also used globally for different applications. TiTaN's MMO coated anodes are in high demand in the global market for its excellent electrolytic properties and low wear rate of the coating.
NB: Coating wear rate ill vary according to the resistivity and the chemical property of the electrolyte.
Centrifugal Pumps


TiTaN's centrifugal pump (radial flow, mixed flow, and axial flow) consists of rotating vanes, enclosed within a housing or casing, used to impart energy to a fluid through centrifugal force. The pump has two main parts: a rotating element which includes an impeller & a shaft and a stationary element made up of a casing (volute or solid), stuffing box, and bearings. Corrosion resistant radial flow pumps are centrifugal pumps in which the pressure is developed wholly by centrifugal force. In mixed flow pumps, the pressure is developed partly by centrifugal force and partly by the lift of the vanes of the impeller on the liquid. Axial flow centrifugal pumps develop pressure by the propelling or lifting action of the vanes of the impeller on the liquid.
Platinized Anodes



Platinum is well known for its peculiar chemical properties such as High corrosion resistance, good thermal conductivity and specific catalytic nature. The higher cost of Platinum inhibits its solid form of usage as an anode, so that Platinized anodes were introduced to gain the good chemical properties of Platinum in an economical way.

Pt Anodes - manufacturing process: Platinised anodes are manufactured by plating Platinum (Pt) on a specially treated precious metal substrate using electrodeposition process.
Titanium, Tantalum, Niobium and Zirconium are the commonly used exotic metal substrate in Platinized anodes. According to the substrate material used, platinized anodes can be classified as
Platinized titanium anodes (PLATMA)
Platinized tantalum anodes (Pt Ta anode)
Platinized zirconium anodes (Pt Zr anode)
Platinized niobium anodes (PLANMA)
Each type of anode is having its own characteristics and application ranges.Especially TiTaN's Platinized Niobium Metal Anode (PLANMA) is most suitable for electrolytes having more fluoride content.
Electrochlorinators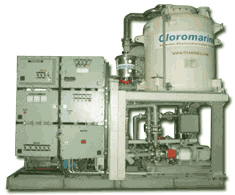 TiTaN., offers a wide range of Electro Chlorinators. TiTaN has designed and engineered, most modern and highly efficient electrolyser systems to meet the global requirements for applications such as drinking water, effluent treatment, fountains, swimming pools, cooling towers, sea water intake systems, bio-fouling, poultry, aqua culture, etc., Their range include systems in various levels of instrumentation to suit individual applications. Our Electrochlorination systems produce economical and eco-friendly form of chlorine from synthetic brine and seawater.
Services

The technical services we cater to design are material selection, import substitution, exports, site evaluation, on site fabrication, erection, commissioning, in-site repairs and refurbishment. Our maintenance services includes recoating of anodes, repair of exotic metal valves, repair of falling film evaporators, concentrator element replacement, replacing low carbon nickel inner tubes, in-site repair of exotic metal chemical equipment, erection & in site repair of pipelines and fittings, maintenance of cathodic protection system, refurbishment of anodes and electrodes, supply & repair of heat exchangers and reactors.
•
Absorption Towers
•
Acetic Acid Plant Column
•
Acetic Acid Plant Storage Tanks
•
Acid Regeneration Blowers
•
Activated Titanium Metal Anodes
•
Ag/AgCl Reference Electrodes
•
Alkylation, Amination Reactors
•
Aluminum Anodes
•
Anode Fin Replacement
•
Anode Refurbishment
•
Anodes For Electrofloculations
•
Anolyte Tanks
•
Anolyte Tanks, Lined & Cladded
•
Ballast Tank, Storage Tank Anodes
•
Bolts & Fasteners
•
Box Type Chlorate Cell Anodes
•
Brine Recovery Tanks
•
Bromate Industrial Anodes
•
Buried Gas, Oil Structure Anodes
•
Canistered Tubular ICCP Anodes
•
Carbon Steel Tank Hydrogen Lifting Cell Chlorate A...
•
Catalytic Reactors
•
Cathodic Protection Anodes
•
Cathodic Protection Anodes, Impressed Current
•
Cathodic Protection Equipment
•
Cathodic Protection, Corrosion Engineering
•
Cathodic Protection, Sacrificial Anodes
•
Catholyte Tanks
•
Caustic Concentrator Tubes
•
Chemical Industrial Storage Tanks
•
Chemical Process Reactors
•
Chlor Alkali Anodes
•
Chlor Alkali Plant Storage Tanks
•
Chlor Alkali Plants
•
Chlorate & Chlorine Dioxide Plants
•
Chlorate Cell Electrolyzer Anodes
•
Chlorate Industrial Storage Tanks
•
Chlorine Coolers
•
Chlorine Dioxide Generators
•
Chlorine Dioxide Plant Storage Tanks
•
Chlorine Dioxide Plant Towers
•
Chromium Plating Anodes
•
Cladded / Clad Tanks
•
Cladded Channel
•
Cladded Tanks
•
Column & Tower Equipments, Zirconium
•
Consultancy, Onsite Chlorination
•
Cooling Water Electrochlorinators
•
Copper Plating Anodes
•
Copper Sulphate Plant Pressure Vessels
•
Corrosive Liquid Storage Tanks
•
Cupro Nickel Pressure Column
•
Cupro Nickel Pressure Towers
•
Cupro Nickel Pressure Vessels
•
Cupro Nickel Reactors
•
Cupro Nickel Tanks
•
Diaphragm Cell Anodes
•
Dimpled Reactors
•
Double Stem MMO Mesh Anodes
•
Double Stem MMO Plate Anodes
•
Double Stem Plate Type Chlorate Anodes
•
Drying Columns, Zirconium
•
Duplex / Super Duplex Tanks
•
Duplex Cyclone Separators
•
Duplex Evaporators
•
Duplex Explosive Cladded Tanks
•
Duplex Helical Coils
•
Duplex Lined Towers
•
Duplex Pressure Vessel, Column & Towers
•
Duplex Reactor Vessels
•
Duplex Reactors
•
Electrochlorination Anodes
•
Electrochlorinator, Electrolyzers
•
Electrode Element Refixing
•
Electrodes For Titanium Welding
•
Electrogalvanizing Anodes
•
Electrolyzer Systems
•
Electroplated Niobium Anodes
•
Electroplated Platinized Anodes
•
Electroplated Platinum Anodes
•
Electroplated Platinum Metal Anodes
•
Electroplated Tantalum Anodes
•
Electroplated Titanium Anodes
•
Electroplated Zirconium Anodes
•
Electrowinning Anodes
•
Ethylbenzene Reactors
•
Ethylene Stripper Columns
•
Exchanger Tube Replacement
•
Exotic Metal Lined Column
•
Exotic Metal Lined Tanks
•
Exotic Metal Lined Towers
•
Exotic Metal Lined Vessels
•
Exotic Metal Valve Repairs
•
Explosive Cladded Metal Tanks
•
Falling Film Evaporator Repairs
•
Fertilizers Industrial Tanks
•
Filter Feed Drums
•
Finger Type Mercury Cell Anodes
•
Flat Band Heater, Titanium
•
Flue Gas Separators