Profile: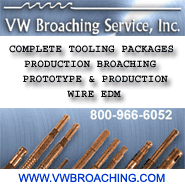 V W Broaching Service provides precision broaching and machining services for a wide variety of clients in biomedical, automotive, home appliances, hand tools, government and consumer goods.
Along with traditional horizontal broaching machines, designed to cut square-sided shapes into internal forms, V W's inventory includes vertical-ram, continuous-chain, and high-speed broaching machines capable of competing favorably with the milling process on all types of external forms as well.
With over sixty machines in our 54,000 square foot plant V W Broaching is one of the largest specialty broaching and machining shops in the Midwest with all forms of broaching machines, keyseaters, vertical shapers and Wire EDM. We are also premier fabricators of broach tooling with in-house broach designers and toolmakers.
Edit or Enhance
this Company (
1045
potential buyers viewed listing,
1338
forwarded to manufacturer's website)