Profile: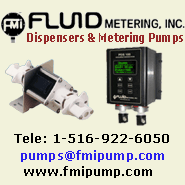 Fluid Metering, Inc. specializes in patented valveless rotating and reciprocating piston metering pump concept. We deliver pumping excellence and precise fluid control. We are an ISO 9001 certified company. We provide quality valveless metering pumps, the very best service, and technical support.
Injection Pump System
Our Chloritrol™ is a valveless metering system for accurate, maintenance-free injection of sodium hypochlorite for purification of municipal drinking water. Accurately metering liquid sodium hypochlorite presents a unique challenge because of the fluid's tendency to out-gas. Many conditions including elevated temperatures, exposure to UV radiation, and cavitations, in addition to, contact with metallic and organic impurities, tend to increase sodium hypochlorite out-gassing.
Programmable Dispensing System
Our PDS100 is a Programmable Dispensing System which uses precision stepper motors to control a variety FMI's patented valveless piston pumps. The PDS100 has a range from 500 nanoliters per dispense to 2 liters per minute continuous flow. It will accommodate all FMI pump sizes in both fixed and adjustable displacement configurations. The pump heads are integrally mounted to the control unit which is housed in rugged anodized aluminum enclosure. The control unit includes the stepper motor drives as well as programmable driver electronics.
Displacement Dispensing System
Our VMP is a fully programmable dispensing system which utilizes FMI's patented CeramPump® Valveless piston pump design driven by a precision stepper motor. It can be programmed for a variety of functions using a user friendly Touch Screen Interface which can control up to 16 pumps on a single bus.
Motorless QP Pedestal Pumps
Our Motorless QP Pedestal Pumps are used extensively in industrial, laboratory, and OEM applications including instrumentation, gluing, marking, lubricating, spraying & dispensing equipment.
Edit or Enhance
this Company (
1073
potential buyers viewed listing,
248
forwarded to manufacturer's website)