Profile: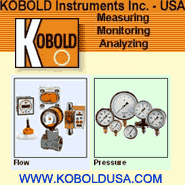 KOBOLD Instruments, Inc is an ISO 9001:2000 certified company providing process measurement and control solutions. We offer instruments to measure and control flow, pressure, level and temperature. We provide an array of sensors, switches and transmitters for the industry.
We provide flow switches, flow transmitters and flowmeters for both liquid and gas applications including variable area flowmeters, paddle wheel flowmeters, turbine flowmeters, vortex flowmeters, oval gear meters, target flowmeters and magnetic flowmeters.
We provide mechanical pressure switches, electronic pressure switches, mechanical pressure gauges, electronic pressure gauges and pressure transmitters.
Our level products include float level switches, optical level switches, ultrasonic level switches and conductive level switches. We also offer a broad range of level transmitters including float-type level transmitters, magnetostrictive level transmitters, ultrasonic level transmitters and capacitance level transmitters. We manufacture bypass level gauges and mini-bypass level gauges which are mounted on tanks to provide a visual indication of the level together with optional level switches and level transmitters.
Finally, our many types of temperature measurement and control products include temperature switches, temperature gauges and temperature transmitters.
Edit or Enhance
this Company (
2592
potential buyers viewed listing,
1391
forwarded to manufacturer's website)