Lonestar Industries specializes in offering a wide range of
Metal Expansion Joints
and Bellows. We are an ISO 9001:2000 certified company. We develop and supply Metal Expansion Joints / Bellows for various applications, which includes Pipe Lines, Process Ducts, Turbines, Heat Exchangers, Condensers, Exhaust Manifolds and other Equipments.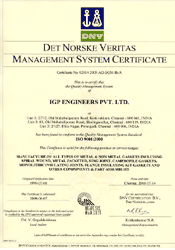 We manufacture various types of Metal Expansion Joints/Bellows required for all applications. We produce Single Expansion Joints, Universal Expansion Joints, Tied Lateral Expansion Joints, Hinged Expansion Joints, Gimbal Expansion Joints, Elbow Type Pressure Balanced Expansion Joints and Inline Pressure Balanced Expansion Joints.
We also offer Metal Expansion Joints / Bellows of special types for critical and extreme service conditions such as,

Our Metal Expansion Joints/Bellows are subjected to routine NDT checks as per International Codes & Standards and periodic Type test for design & performance evaluation. We also supply Metal Expansion Joints and Bellows on specific requests duly inspected by Internationally reputed Third Party Inspection Agencies.
We fabricate Metal Expansion Joints / Bellows for pressures as high as 250 bar (g) (3550psig) and high temperatures as high as 1300o C (2372 F). We utilize latest softwares for designing Metal Expansion Joints / Bellows with guidelines from EJMA, ASME & other International Standards. These are available in both Circular and Rectangular shapes. The size covers up to 9000 mm in Circular and Rectangular to any size. We also offer Metal Bellows both in single ply and multiply constructions.
We also develop different types of convolution profiles such as 'U' - shape, Lyra, Toroidal and Diaphragm according to service requirements. We produce Metal Expansion Joints / Bellows using all grades of Austenitic Stainless Steel such as 304, 321, 316, 316L, 309, 310 etc., Duplex Stainless Steel such as 253 MA and High Performance Alloys such as Alloy 600, Alloy 625, Alloy 625 LCF, Alloy X 750, Alloy 800, Alloy 800H, Alloy 825, Alloy C276, Alloy 400, Cupronickel and Titanium alloys.
We have developed and supplied Externally Pressurized Expansion Joints for accommodating large amount of movement at high pressure for Refineries in India. We are able to supply Metal Expansion Joints / Bellows to various Shipping Industries / Ship Repairers with short delivery as low as 24 hours. We also have developed High Pressure Expansion Joints for compensating large amount of Lateral movement for the Oil installations in Middle East Asia and India.
Circular Expansion Joints | Single Assembly Expansion Joints | Split Bellows Expansion Joints | Metal Expansion Bellows | Rectangular Expansion Joints |