Profile: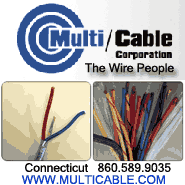 Multi/Cable Corporation is a manufacturer of electrical and electronic wire & cable. We offer a broad and complete line of instrumentation, thermocouple, communications, control, and other types of wire and cable. We also specialize in custom cable constructions. Our extensive engineering and manufacturing capabilities allow us to be able to meet the needs of virtually any electrical wire and cable application. We serve aerospace, agriculture, defense, food processing, medical instrumentation, broadcasting, petroleum, utilities, wire harnessing, automobiles, robotics and oil refining industries. Our product line includes wide variety of conductors, insulating, shielding and jacketing materials. Our products are processed and tested to the most updated industry standards such as UL, NEMA, ICEA, and ISA.
Our conductor offering includes:
Bare copper
Tinned copper
Plated copper
All major thermocouple alloys
We offer the following insulating and jacketing materials:
PVC
Polyethylene
Polypropylene
Polyurethane
Nylon
Teflon (TFE, FEP, PFA, Tefzel)
Fiberglass, High Temp Glass
TPE
Our shielding capabilities include a variety of foil shields and metal braids. We produce cables of equal or higher quality with greater flexibility in design, whatever colors, stranding, insulating and jacketing materials.
Custom Engineered Cable
Our custom cable products are designed and manufactured to suit the specific needs of customers applications. They are an integral part of the system and its performance.
Advantages of Custom Engineered Cable
Determine physical and electrical tolerances.
Define the components (insulation, shield, jacket, etc.) that best fit your application.
Combine various functions, such as power, signal, coax, shielded subassemblies and optical fiber into one cable.
Optimize the conductor count, stranding, size, and color code.
Accelerated Life Test
An accelerated life test is a test in which certain factors such as voltage, temperature, etc, to which a cable is subjected are increased in magnitude above normal operating values to obtain observable deterioration in a reasonable period of time and thereby afford some measure of the probable cable life under operating voltage and temperature.
Compact Stranded Conductor
We manufacture a unidirectional or conventional conductor to a specified diameter, approximately 8 to 10% below the nominal diameter of a noncompact conductor of the same cross sectional area.
Thermocouple Wire and Cable
Temperature measurement is one of the most significant functions in the monitoring of processing and manufacturing operations. The accuracy of the thermocouple is largely dependent on the demandable transmission of signal from a sensor to a recording device - a function of the interconnecting wires or cable. Our multi/pair thermocouple extension cables can have anywhere from 2 to 100 numbered pairs. These cables are typically used for extending multiple temperature points to instrumentation, as in power plants, oil refineries, generating stations or test cells. Our thermocouple wire and cable meets or exceed the standards of UL, NEC, ANSI and ISA.
Instrumentation Cable
Our Instrumentation cables are multiple conductor cables that convey low energy electrical signals used for monitoring or controlling electrical power systems and their associated processes. An example would be signals from computers/ controllers to speed controllers, shutdown controls, motors, and other process components. The functions of measurement and control are vital in manufacturing and processing applications. These functions are greatly dependent on their electronic circuitry. For that reason, our instrumentation cables are designed with minimal interference and maximum safety & durability in mind. Typical applications include industrial equipment control, broadcasting, assembly equipment, or mass transit systems.
Control and Power Cable
Our Power and Control Cables are primarily used in the electric utility, industrial and commercial market places. For use in connecting process control equipment, indicating and signaling devices. Typical applications include control circuits for utility central stations and substations or various operating, relaying, telemetering, indicating, signaling, and measuring circuits for industrial plants and their associated processes. Our control cables are suitable for direct burial, duct, conduit, or aerial installations.
High Temperature Wire and Cable
We manufacture high temperature instrument, high temperature RTD lead wire, thermocouple wire and cables. Typical applications include oven heaters, dryer wiring, furnace ignition leads, pressure or material flow monitoring, open hearths or furnaces, aircraft or missile wires, smoke or fire detection circuits, or process control. Typical insulations are Fiberglass, FEP Teflon, TFE Teflon and PFA Teflon.
Composite Cables
We also provide composite cables that consist of two or more different types or sizes of wires. Our Composite Cables are the best way to integrate all of wiring needs for different applications located in common locations. Combining different types of wire and cable under a common jacket speeds up installations, eliminates the guess work in installation estimates, reduces pulling stress on the wire and cuts down on costly installation errors. Our advanced coloring, striping, and printing capabilities allow us to mark the wires virtually any way that could be specified, making installation a breeze. Composite cables save on total project costs through the quicker, easier, installation of one cost efficient cable.