Profile: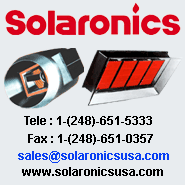 Solaronics, Inc. is a manufacturer of infra-red heating products. We produce gas fired infrared heating products for commercial, industrial, agricultural and residentual applications using natural or LP/propane gas from 30,000 to 200,000 BTU/hour. We are also the OEM supplier of infra-red products. Our products include Low Intensity Gas Infrared Heaters, High Intensity Gas Infrared Heaters and Residential Gas Infrared Garage Heaters.
Gas Infra-Red Radiant Tube Heaters
Our True Dual Two-Stage Gas Infra-Red Tube Heaters provide precise air to gas ratios at both the high- and low-heat stages for optimum efficiency. Excessive overheating is prevented and a softer, more stable and comfortable environment is maintained. It saves up to 75% in energy costs.
Applications
Maintenance Facilities
Manufacturing Plants
Aircraft Hangars
Auto Dealerships
Sports Facilities
Farm Buildings
High Intensity Gas Infra-Red Heaters
Our High Intensity Heaters provide energy efficient total building heating solutions.
Features of High Intensity Heaters
Proven design
Instant heat on demand: reaches maximum operating temperature in less than 30 seconds
No direct venting required: less roof penetrations
May be used in protected outdoor environments
Operates on Natural or LP/Propane Gas
Overhead Door Gas Heaters
We provide Gas Fired Stainless Steel Heaters with Controls Totally Enclosed. Our Door Jet heaters stop the chills and wasted energy that occur when outside bay doors are opened in car washes, industrial plants and distribution centers. Its heat surge tempers the in-rushing cold air, keeping employees working in the area comfortable and saving energy dollars. It operates via a trip switch that starts the fan and burner automatically as the door is raised.
Edit or Enhance
this Company (
943
potential buyers viewed listing,
183
forwarded to manufacturer's website)