Profile: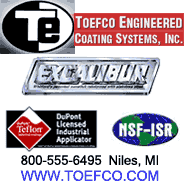 Toefco Engineered Coating Systems, Inc. provides powder coating services. We are an ISO 9001:2000 certified company. We specialize in liquid & dry applications of paint & powder coating for use in broad range and specialized environments. We apply over 450 different types of coatings. We serve aircraft, military, automotive,medical and all industries.
Our Industrial Coatings include:
Fluoropolymer
Molybdenum Disulfide
Epoxy Thermal Cure
PVDF
FEP
Teflon
Nitrocoat
Molybdenum Disulfide Coatings are commonly used to improve the performance of a material in extremes of load carrying capacity, operating temperature and coefficient of friction. This coating provides effective lubrication in a wide range of loads, in many cases exceeding 250,000 PSI. Moly coatings lubricate sacrificially by transferring lubricant between the two mating surfaces, which helps to reduce both wear and the coefficient of friction.
PTFE Coatings are two-coat (primer/topcoat) systems that have years of successful application as non-stick coatings. These products have the highest operating temperature of any fluoropolymer, an extremely low coefficient of friction, good abrasion resistance and good chemical resistance. It can withstand a maximum use temperature of 600°F. This coating is typically applied to a thickness of 1-3 mils.
Polyvinylidene Difluoride is a highly non-reactive and pure fluoropolymer is used in applications requiring the highest purity, strength, resistance to solvents, acids, bases and heat. PVDF components are used extensively in the high purity semiconductor market, in the pulp & paper industry, nuclear waste processing, chemical processing and water treatment.
Edit or Enhance
this Company (
1735
potential buyers viewed listing,
491
forwarded to manufacturer's website)